United Negro College Fund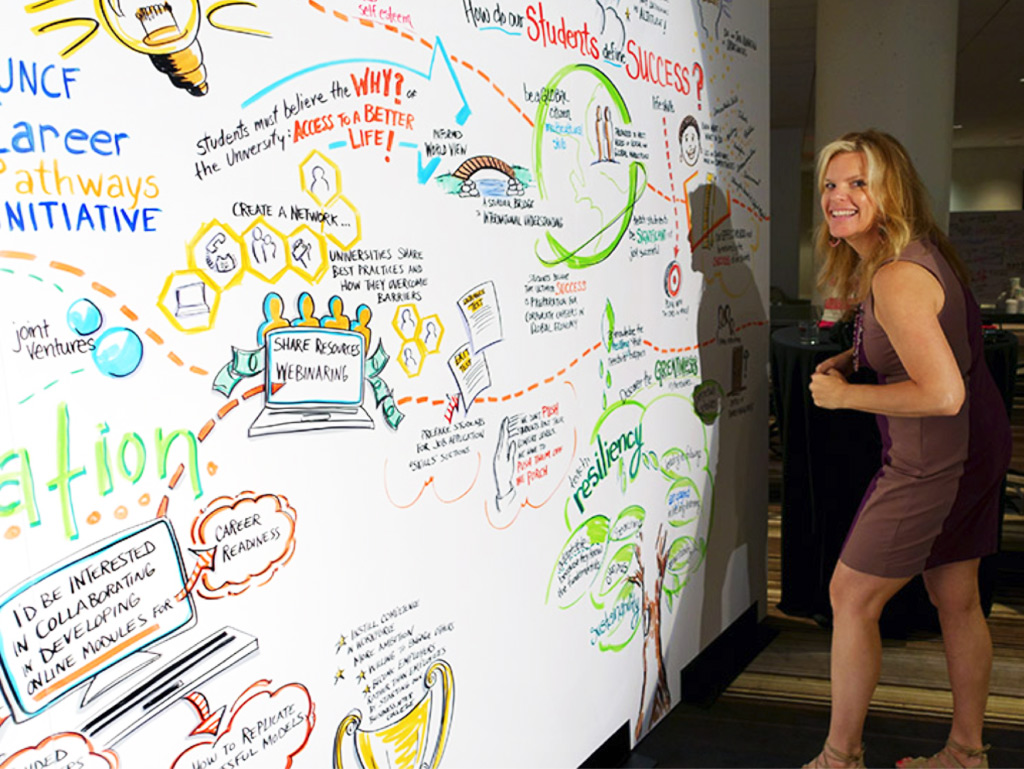 This is a great example of a client totally immersing their meeting in visual elements by using a whole array of our services from design & facilitation to in-studio mapping & template creation to an onsite Idea Wall and live graphic facilitation.
UNCF received a generous $50 million grant to spearhead a program of creating career pathways for students so they are ready to be successful in a career or graduate school post-graduation. As part of the process for distributing the funds, UNCF convened leaders from 30 historically black colleges and universities (HBCUs) for a three-day conference to redesign the pathway of preparing students for 21st century career success.
With a desire to challenge their 250 participants to think about education in a whole new way– immersive, innovative, participatory and collaborative—UNCF partnered with us to co-design the experience. Large-scale visuals and innovative design thinking were seamlessly integrated into the overall convening to immerse participants into a new way of thinking about their work, to challenge their comfort zone and inspire creativity.
UNCF engaged almost all of our services including:
Designing & facilitating the working sessions, beginning with a World Café, a process of purposeful dialogue & conversation that grounds participants in collaborative discussions and cross-fertilization of ideas. One of the questions was: What would it look like if our students emerged 100% ready to embrace the opportunities of the 21st century workplace? What kind of world are we creating?
Creating a series of five templates for participants to think through possibilities, identify gaps, brainstorm strategies, map implementations, and receive feedback on their proposed pathway program during the teamwork sessions.
Visually mapping beforehand in studio a 4x8 map of each institution's proposed program so they could see their key elements and ideas. These 30 visual maps were first displayed during the gallery walk cocktail reception and were present throughout the meeting.
One of the most dynamic elements of the meeting was the 24-foot Idea Wall to capture the many insights, themes, ah-ha's and provocative thoughts that emerged. Two-sided, 12-foot long and 8 feet tall, it was a huge blank canvas situated conveniently on the way to the main ballroom.
Major themes appeared such as: collaboration, networks, transformation, empowered students, resiliency, creative & experiential learning, technology in the classroom, how to keep the best of traditions but adapt to the 21st century, innovation and sustainability. UNCF plans to use the wall at many other opportunities.
On top of all this we also provided live graphic facilitation of the keynotes and discussions.
All total we created about 368 feet of visual maps for UNCF. We have since been hired by several of the HBCUs.