Need graphic facilitation or visual mapping?
Are you bringing together a group of bright people to have a conversation — a really important conversation?
It could be any kind of meeting, from a brainstorming strategy session to high level climate change talks at the UN. The kind of meeting where, if you could only break down personal defenses and old ways of thinking, if you could just unlock the creative potential in that room, you know great things will happen. Whole new possibilities for growth, change and empowerment. It's exciting and also nerve-wracking.
What you don't want.
One of those meetings.
You know the ones. Mind-numbing PowerPoint presentations. Discussion dominated by one loud person. You're checking your Blackberry every 15 minutes and making to-do lists. Getting more and more agitated each time you think about the whole day being wasted by this stupid, going-nowhere meeting. Even worse, all the stuff that was supposed to get sorted at the meeting is still waiting to be done, except now everyone is confused about where to start.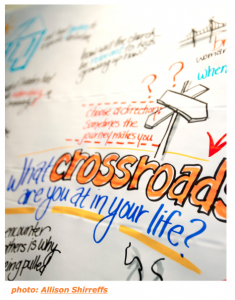 You don't want one of those meetings.
What you do want.
A meeting that's crackling with energy. Your people engaging, collaborating, listening and brainstorming their ideas into form.
You want to be able to see your ideas and how they connect to other ideas. Bubbling, percolating and mixing together so they go from belonging to one person to being championed by everyone.
You want to capture and record those ideas. To revisit them throughout the day and beyond the meeting.
You want someone skilled in creativity and innovation driving the meeting forward. Organizing. Synthesizing. Bringing clarity, focus and strategy to the decisions that need to be made.
You want everyone to leave fueled by excitement and determination -– and with a roadmap that turns ideas into action.
Email me and we'll put together a meeting that rocks.
You want a meeting with the power of graphic facilitation.