The Viz Biz plan (a year of visual planning magic)
Does traditional business planning make you want to hide under the covers?
Of course you want a clear vision of where you are headed, and a plan for how to get there. You want to be able to make decisions confidently, knowing you are propelling your business toward:
More clients.
More income.
More freedom.
More of what you want.
But words like SMART goals, milestones, objectives, SWOT analysis, key performance indicators, DISC assessment, and ROI make you break out in hives. (What is the deal with all the acronyms anyway?)
For a creative person, that kind of planning can feel hard and restrictive. It certainly doesn't inspire you.
So you're stuck.
What if there was a way to do business planning that didn't suck?
A way that supports and inspires you throughout the whole year.
With gorgeous one-page visual plans crafted in panoramic color just for you – plans that sing to you because they're intuitive and relational and organic. Not analytical and linear and corporate-y.
And regular updates to your planning so you can look ahead just far enough to keep you motivated and shooting high, while still having all the details you need to take action.
A visual business plan that makes you so hysterically happy, you just can't wait to look at it and work on it every day. (And it never, ever gets folded up and stuffed in a drawer.)
How it works.
The Viz Biz plan is 12-month visual business planning package. We'll have four phone sessions throughout the year – one every three months.
From my experience, three months is the perfect amount of time for a one page vision and action map. It's short enough to contain the detail you need and long enough to make progress on some big goals.
As we move through the year and your Viz Biz plans accumulate, you'll have an amazing vantage point to see how your business is growing.
Before each phone session, I'll send you some prompts to help you dream and conjure where you want to go (if you'd like that!).
Then we'll talk (usually 90 – 120 minutes). I may do a guided visualization to help you see your business clearly. I'll ask questions and offer suggestions, and as we're talking I'll organize, synthesize and capture your ideas in a 4×8 foot vibrant visual plan. Think of me as a coach with markers and a little something extra – reiki magic.
I work intuitively and use reiki (universal healing energy) to locate the places where we need to go and where your energy (and the energy of your business) may be stuck.
Every three months you will get:
Your business vision, and the detailed steps you need to get there, captured in a larger than life sized (4×8 foot) road map that will inspire you onwards.
A very cool digital version for your computer desktop so you can check your progress every day.
Need a little extra support?
You'll have a glorious full-color plan, and detailed next steps. Still, stuck can be a tricky beast, can't it?
If you'd appreciate a little more support as you bring your big vision to life, you can choose the premium package which includes monthly check in sessions (an additional eight sessions). In these coaching calls there'll be gentle accountability to keep you on track, and more reiki magic to move any stuck energy getting in your way.
Ready for your year of non-sucky business planning?
Viz biz planning in action.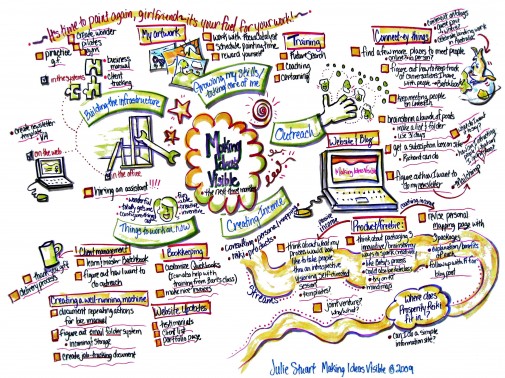 Here's my Viz Biz plan from October 2009. As I wrote on my blog when I did it:
Yesterday I created my three-month business plan and just looking at the thing makes me hysterically happy. My plan has pictures. Hearts. Hot pink dots. Kangaroos. And confetti. How could I not love it? How could I not be wildly inspired by it? How could I not use it every day?
Having my Viz Biz plan on my office wall has been awesome. It helps with:
Big picture systems thinking.
I can see the whole landscape of my business and all the working parts in large scale (4×8 foot) panoramic color. It's a huge monument of where I want to go. A Roadmap of Inspiration.
Capturing ideas in one place.
Releasing all the ideas, visions and details that are bouncing around in my head onto the page makes room for new ideas, dreams and possibilities.
Clarity for the whole team.
Having my ideas, projects and plans in one place makes it easy to show other people, like my VA and my coach, where I'm going. And they get it in about five minutes. Five minutes!
Daily inspiration.
I have the original hanging in my office where I see it every day. You can have a digital version on your computer screen, and can print one on legal-size paper to keep it handy and refer to it every day for guidance. Like a color-chromatic GPS system.
Practical action steps.
In the last three months I have charted my progress by:
Putting a dotted line around the tasks that are delegate-able and have been handing those off to my VA.
Checking off the boxes of things I've accomplished which makes the perfectionist in me very happy!
Added more notes as the ideas have evolved and become more concrete.
In short, having a Viz Biz plan has been so incredibly useful I want to share it with my fellow creative's. I think it's going to forever alter the way you think about planning.
Here's what Kelly Parkinson of Copylicious had to say after I visually mapped the direction of her business:
I don't know why all these things in my head are so overwhelming but when I see them like this it makes perfect sense.

You made it into a system that makes sense and I can see how it all fits together. This was so amazing. I'm so glad I did this.

Not only do I have clarity on this situation, but I also have a new vision for what my business could really become. I know EXACTLY what I need to be doing now–next steps and things to move toward in the future.
Ready to rock your business with 12 months' viz biz planning?
Remember, there are two options.
You can grab the standard package with four fabulous visual planning sessions (one every three months).
Or, for extra making-big-dreams-happen magic you can go for the premium package with four fabulous visual planning sessions plus eight monthly check in sessions to keep you on track.
Rockin' Standard Package

Extra Magic Premium Package

Four fabulous visual planning sessions (one every three months)

Four larger than life full-color visual plans (4×8 foot on paper) mailed to you after each session.

Digitized version of your full-color visual plan (converted and emailed within minutes of your session)

Eight one-hour check in sessions to stay on track, clear any stuck, and get your awesomeness out into the world.

$1248 for the package or $104 a month if you prefer monthly payments.
(These sessions purchased separately would cost $1476. This is a savings of 15%!)

$2508 for the package or $209 a month if you prefer monthly payments.
(These sessions purchased separately would cost $2956. This is a savings of 15%!)

Click on the package of your choice to make payment and then you can confirm our first session.
Questions? Email me! (I don't bite.)
Just looking for one session of visual mapping for your big idea? Check out my personal and business mapping page.