Do you have a three month business plan? Are you using it? Does it make you happy? Make you smile? Does it express the excitement you have for your business?
Yesterday I created my three-month business plan and just looking at it makes me hysterically happy. My plan has pictures! Hearts! Hot pink dots! Kangaroos! And confetti! How could I not love it? How could I not be wildly inspired by it? How could I not use it every day?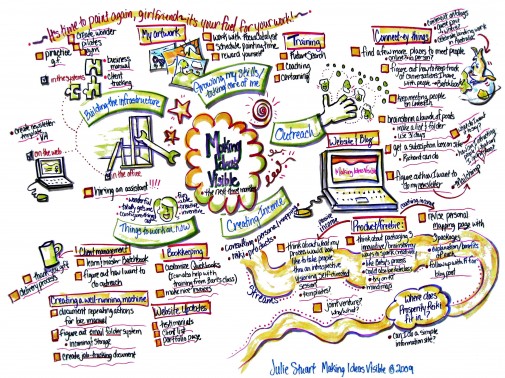 Big picture systems thinking.
Most importantly, I can see The Big Picture. In large-scale (4×6 feet) panoramic full color. It's a huge monument to where I want to go. A Roadmap of Inspiration.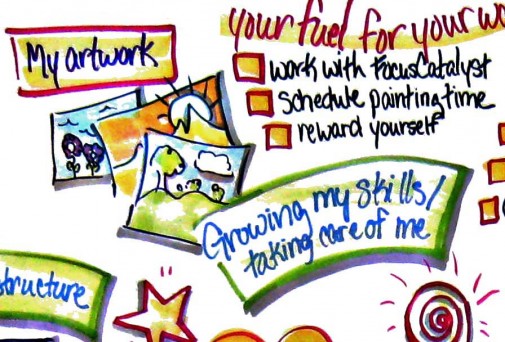 Having all your ideas in one place.
Getting it out on paper allowed me to have a huge brain dump of all those ideas, visions and details that had been bouncing around in my head.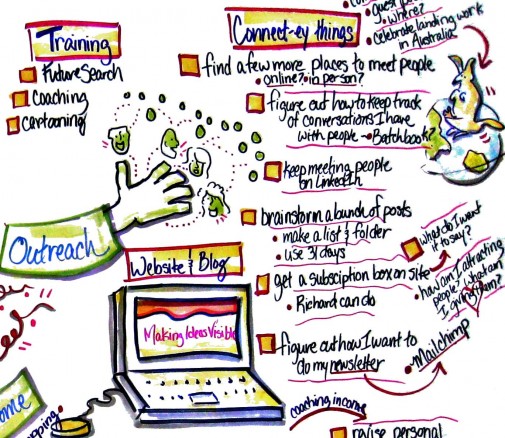 When you carry stuff around for a while in your mind you just keep cycling through the same ideas and thoughts. There is less room for new thoughts and ideas to come in. So getting those thoughts down on paper where I can see them frees up some cache in my mind for new ideas, dreams and possibilities.
Clarity for your team.
Having all my ideas, projects and plans in one place makes it easy to show other people where I'm going, like the new assistant I'm hiring this week! (Part of my biggification process.)
By looking at the whole mural, she will get a strong, clear understanding of what my business is about and where we're headed in the next three months. There's a whole section of the mural that has the projects I want her to start working on.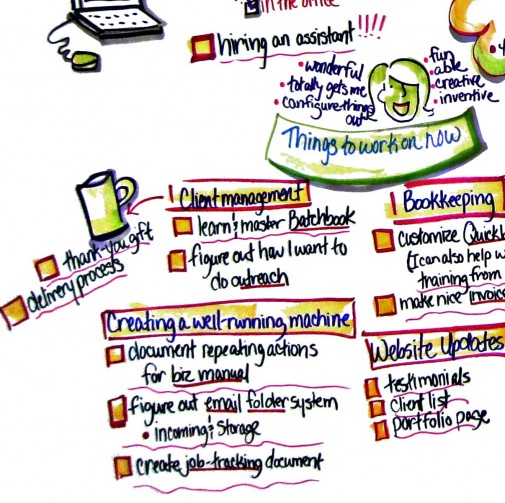 And she'll get this in about five minutes. Five minutes! I won't have to take an hour or two to explain all the pieces and parts of my business because it's all right there in panoramic living color.
Refer to your plan every day.
I'll give her a digital version and print one on legal-size paper so that we can keep it handy and refer to it every day for guidance. Like a color-chromatic GPS system!
Another real life example.
I did a similar personal mapping session for Kelly Parkinson of Copylicious. She came to me with a ton of ideas swimming around in her head because she's super creative and an idea-generating machine. As she said about the experience:
I saw one of the maps Julie had created for another client and thought that this was exactly the thing I needed. I needed to get out of my own brain. Even though I'm a copywriter so I should be able to write my way out of any problem, sometimes writing out my thoughts on my own business just gets me lost in the maze again. I needed something visual and something fun and an outside perspective.
We spent about two hours on the phone. I listened and asked questions while writing and drawing her ideas on a 4×8 foot piece of paper.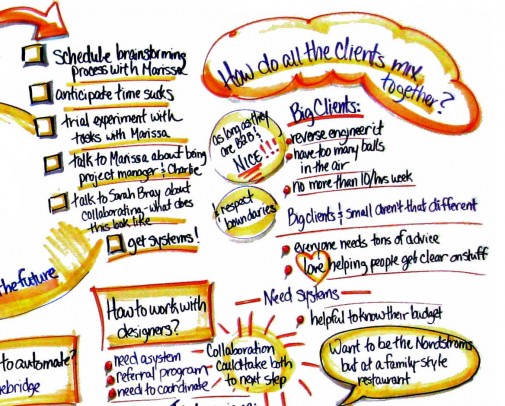 This is what Kelly had to say afterward:
I don't know why all these things in my head are so overwhelming but when I see them like this it makes perfect sense.

You made it into a system that makes sense and I can see how it all fits together. This was so amazing. I'm so glad I did this.

Not only do I have clarity on this situation, but I also have a new vision for what my business could really become. I know EXACTLY what I need to be doing now–next steps and things to move toward in the future.
Need a three month business plan that you'll actually love and want to use?
Send an email to schedule your session to: Julie at Making Ideas Visible dot com or read more about the process here.